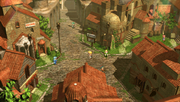 Armlock is a town in Energy Nede. It is located in the same area as the Fun City and northeast of the Minae Cave. It is a town dedicated to weapon creating, although the use of these is completely forbidden by the Nedian law.
Story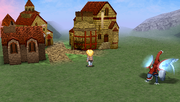 The party reaches Armlock as a request of Nall, after their failure on the assault to Phynal. There, they enter through the "Sealed Door", a door leading to a building with a transporter, which teleports them to the remote Symbological Weapons Laboratory.
On their return from the facility, the party contacts Dr. Mirage, a weapon researcher resident in the town. Checking the weapon blueprints found in the Symbological Weapons Laboratory, Mirage warns that she needs the LEA Metal, a mineral found in the bodies of the Barchians from Minae Cave. Claude and Rena obtain it, and thus Mirage is able to create the Antimatter weapons.
Later, during the Wise Men's attack on Fun City, Metatron follows Mirage to Armlock. There, he breaks in her house and attacks her, but is confronted by Claude and the party, being defeated by them.
Encounters
Shops
Peddler
Item
Cost
Aquaberries
105
Blackberries
200
Blueberries
60
Smith's Hammer
250
Mechanic's Toolboc
1200
Iron
200
Silver
200
Gold
300
Ruby
400
Sapphire
800
Green Beryl
500
Crystal
500
Diamond
9000
Magic Canvas
1000
Magical Clay
600
Thief's Gloves
40000
Fountain Pen
460
Pet Food
10
Potion of Lilith
150




Sharpened Skills
Item
Cost
Sense 3
2700
Combat 1
400
Combat 2
1600
Combat 3
4500

The Kitchen Knife
Item
Cost
Seafood
500
Fruit
80
Grains
145
Meat
300
Vegetables
30
Eggs and Dairy
10




The Weapon Factory
Item
Cost
Force Sword
50000
Blade of Ruin
190000
Lotus Eaters
188000
Knuckles of the Moon
50000
Grizzly Clasp
140000
Ruby Rod
80000
Atomic Puncher
170000
Spark Whip
160000
Encyclopedia
50000
Lightning Gun
158000
Alpha Box
139900
Annoying Handy Stick
45000
Ad blocker interference detected!
Wikia is a free-to-use site that makes money from advertising. We have a modified experience for viewers using ad blockers

Wikia is not accessible if you've made further modifications. Remove the custom ad blocker rule(s) and the page will load as expected.