The Army Camp is a prison in planet Fargett, located south of Vadgupe. It is mainly used for opposers to Jie Revorse's dictatorial rule over the planet.
Story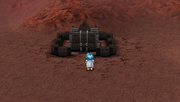 After the ambush of the Fargettian forces against Ronyx J. Kenny's team, the elements rescued by Yvena and her resistance force plan a cooperative rescue mission with the Fargettian resistance to save the captured elements.
While the resistance puts up a diversion, Roddick and his friends infiltrate the Army Camp in order to rescue their friends, leaving the base as soon as they are released.

Enemies
Treasure
Resurrection Elixir
Medicine Bottle
Medicine Bottle
Mithril
Ad blocker interference detected!
Wikia is a free-to-use site that makes money from advertising. We have a modified experience for viewers using ad blockers

Wikia is not accessible if you've made further modifications. Remove the custom ad blocker rule(s) and the page will load as expected.