Dragon Roar
Talk

0
1,001pages on
this wiki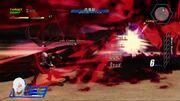 Dragon Roar, also known as Dragon Howl, is a recurring Special Art in the Star Ocean series. It is an Edarl Blade Arts skill that uses and release spirit energy in the form of a dragon.
Appearances
Edit
Dragon Roar
Name
MP Cost
Level/SFT Learned
Roddick Farrence
15
29
In the original Star Ocean, Roddick leaps into the air and briefly transforms into a dragon before breathing a ring of destruction on his enemies below. First Departure reuses Claude's version instead.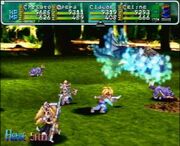 Dragon Roar
Character
MP Cost
Level/Item Learned
Top Proficiency
Claude C. Kenny
28
53
500
Claude summons the form of dragon atop his fist that spits forth a wispy breath.This art is known as Dragon Howl in The Second Story.
Dragon Roar
Character
MP Cost
Trigger
Learning Requirements
Claude C. Kenny
40

MP 70+

INT 20+
Dragon Roar
Character
Level Acq
HP/MP Useage
Fury%
CP
Albel Nox
50
150/12% HP
30/62
7
Dragon Roar
Character
Max Lv
Damage
MP Cost
CP Cost
Acquired
Notes
Arumat P. Thanatos
10
ATK x450%-910%
20-29
6
Skill Manual
Strike down and watch in glee as dragons pour forth along their tracks, attacking the enemy.
Dragon Roar has appeared in every Star Ocean game to date.
Star Ocean: The Second Story/Second Evolution Special Arts
Character Arts
Claude C. Kenny
Phase Gun - Air Slash/Shockwave Swirl - Meteor Palm/Palm of Destruction - Helmetbreak - Sword of Life - Knuckle Burst - Rock Explosion - Double Slash - Dragon Roar - Sword Bomber - Mirror Blade
Ashton Anchors
Twin Thurst - Cross Slash - Vanishing Swords - Northern Cross - Piercing Blades - Hurricane Slash - Deadly Triangle - Dragon Breath - Sword Dance - Tri-Ace
Precis F. Neumann
Rocket Punch - Hop 'n' Step - Hole-y Mole-y - Robbie Tossin' - Parabola Beam - Hammer Slammer - Frakenrobbie - Super Hologram - Forcefield - Robbie's Superbeam
Dias Flac
Air Slash - Chaos Sword - Crescent Cross - Pale Moonlight - Gale Thrust - Moonlight Arc - Phoenix Drive - Full Moon Slash - Deadly Illusion - Phoenix Blast
Bowman Jeane
Explosive Fist - Poison Pellets - Neck Snap - Phoenix Talons - Self Medication - Deadly Intersection - Tornado Fist - Cataclysmic Fist - Inferno Pellets - Petal Fury
Opera Vectra
Flame Launcher - Photon Prison - Tracking Plasma - Dispersion Ray - Blizzard Swirl - Gravitational Sphere - Electric Shockwave - Refraction Beam - Holy Star - Hyperlauncher
Ernest Raviede
Dimensional Whip - Spiral Lash - Arc Swing - Thousand Tails - Sandstorm - Bed of Roses - Thunder Whip - Sonic Whip
Chisato Madison
Roaring Cartwheel - Burning Cards - Gale Somersault - 100,000 Volts - Flamethrower - Rising Dragon - Tear Gas - Missile Strike
Welch Vineyard
Slap - Flick - Left Hand Rule - Spinning Finger - Distraction - Iron Fist - Slappity Slap - Rapid Flick - Mithril Flick - Nibelungaling!
Enemy Arts
Spicule - Wind of Destruction - Divine Wave - Divine Comedy