"Deliver a burst of inner energy in the shape of a dragon."
—Star Ocean: The Second Evolution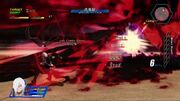 Dragon Roar, also known as Dragon Howl or Kouryuuha (吼竜破 lit. Howling Dragon Blast), is a recurring Special Art in the Star Ocean series. It is an Edarl Blade Arts skill that uses and release spirit energy in the form of a dragon.
Appearances
Dragon Roar
Name
MP Cost
Level/SFT Learned
Roddick Farrence
15
29
In the original Star Ocean, Roddick leaps into the air and briefly transforms into a dragon before breathing a ring of destruction on his enemies below. First Departure reuses Claude's version instead.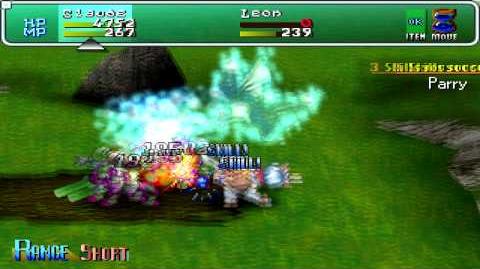 Dragon Howl/Dragon Roar
Character
MP Cost
Level/Item Learned
Top Proficiency
Claude C. Kenny
28
53
500
Claude summons the form of dragon atop his fist that spits forth a wispy breath, dealing multiple hits.
At higher proficiency, the flame becomes larger and deal more hits. It is the Special Art that requires the highest amount of uses in order to reach top proficiency.
Dragon Roar
Character
MP Cost
Trigger
Learning Requirements
Claude C. Kenny
40

MP 70+

INT 20+
Dragon Roar
Character
Level Acq
HP/MP Useage
Fury%
CP
Albel Nox
50
150/12% HP
30/62
7
Dragon Roar
Character
Max Lv
Damage
MP Cost
CP Cost
Acquired
Notes
Arumat P. Thanatos
10
ATK x450%-910%
20-29
6
Skill Manual
Strike down and watch in glee as dragons pour forth along their tracks, attacking the enemy.
Dragon Roar
Character
MP Cost
Skill

Book

Description
Victor Oakville
29
Swordsman's Manual VIII
Summon a furious dragon to attack an enemy in front of you. The dragon will let out a bloodcurdling roar as it charges forward.
Trivia
Dragon Roar has appeared in every Star Ocean game to date.
Ad blocker interference detected!
Wikia is a free-to-use site that makes money from advertising. We have a modified experience for viewers using ad blockers

Wikia is not accessible if you've made further modifications. Remove the custom ad blocker rule(s) and the page will load as expected.