Eleyna Farrence
is a minor character in
Star Ocean: The Last Hope
. She is a
Fellpool
tarot card reader from
Roak
. She is a distant ancestor to
Roddick Farrence
, from
Star Ocean: Fantastic Space Odyssey
and
Star Ocean: First Departure
.
Story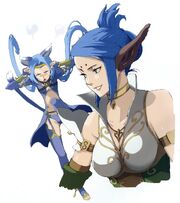 Eleyna is first mentioned to the party in Astral City just after rescuing Sarah Jerand. She says that she is her friend who lives in Tropp. She is of course a powerful sage and is respected throughout the land. After certain trials with the Stone sickness Sarah is kidnapped. They think that she was taken to the Purgatorium so they set off there. When they get inside it is blocked off and remember that Eleyna was mentioned before so they go to Tropp. Although in her house it is burnt down by Asmodeus worshippers and the party is teleported into an underground cave where they meet her. Meracle respected Eleyna very much but was greatly disappointed when she turned out to be arrogant. Eleyna is very egoistic and knows she is loved. She is also very inteligent and resisted all the attempts of Asmodeus' worshippers of Church of Sydonai to either recruit her into their ranks or to kill her instead. She is very blunt in describing those cultists and never fears to call them bona-fide idiots without hesitation.
On top of that she is very skilled in the art of fortune-telling, performing the auguries which are much more accurate than the common methods of seeing the future. Therefore she convinced the party members to just stop the cultists of Church of Sydonai as Edge and his friends are not meant to destroy Asmodeus himself. She helps out the party though by giving them the secret card to get through the Purgatorium. They left her in her hideout after she said she needed more rest after performing additional augury of the future in which they fail in saving Sarah, that proved to be too hard to withstand without fainting as she saw the images of total destruction of Roak.
Despite her arrogance she accepted Meracle's claims of disappointment well, that lady Eleyna is supposed to be rather beautiful, wise and kind. Eleyna said that she characterized her exactly to the letter. Even though she calls Meracle an 'Alleycat', she is shown to be quite fond of her due to Meracle idolizing her as a book character she liked and asked her to tell her more about this 'Eleyna the Holy Maiden'. After the end of the story Eleyna acts as her foster mother, adopting quite strict methods of reeducation. After witnessing one of Eleyna's lectures to Meracle, an artist from Tropp made a paint of both women which ultimately led to the creation of legends about Eleyna and the Feline Gourmand which somehow made its way to become Meracle's favourite story in different timeline.
In Crowe's ending, Eleyna finds Crowe in the beach near her home and informs him that according to her augury they will marry and have children, making Crowe an ancestor of Roddick. According to Meracle, this romance is included in the legends about Eleyna and the Feline Gourmand too, as one of the most interesting part.
Star Ocean: Anamnesis
Role: Caster 4☆ to 6☆
Weapon: Staff
Talent:
Oracle - INT Damage taken -30% (All Allies)
Saint Legend - Easier to stun +15% (Self)
Rush Combo: Cold Blossom - DEF -40% (All Enemies 20 seconds) Power: INT x 3,000% Max Hit Count: 12 Element: Ice
Skills:
Wind Blade 20 AP - Power: INT x 190% Max Hit Count: 2 Element: Wind
Ice Needles 24 AP - Power: INT x 250% Max Hit Count: 9 Element: Ice
Tornado 35 AP - Power: INT x 460% Max Hit Count: 2 Element: Wind
Arctic Impact 42 AP - Power: INT x 670% Max Hit Count: 3 Element: Ice
LB 5 Level 70 Status:
HP: 9,975
ATK: 1,286
INT: 2,403
DEF: 1,103
HIT: 882
GRD: 686
Family Tree
Gallery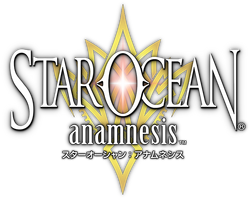 Translations - Artists - Voice Actors
Planets
V-Group 2
Sub-Group 1
Content
Sub-Group 2
Content
Races
V-Group 2
Sub-Group 1
Content
Sub-Group 2
Content
Terms
V-Group 2
Sub-Group 1
Content
Sub-Group 2
Content