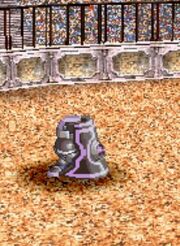 "Here they are... Dias Flac, who has overwhelmed all his opponents since the first round, and a strong-armed swordsman, Grondo Rawlos!!!"
—Announcer.
Grondo Rawlos is an Expellian swordsman with heavy armor and a great shield who is known for his strong arm. He competes in the Lacour Tournament of Arms and wins his way into the Final Round where he has the unfortunate luck of facing off aggainst Dias Flac, to whom he loses.
Ad blocker interference detected!
Wikia is a free-to-use site that makes money from advertising. We have a modified experience for viewers using ad blockers

Wikia is not accessible if you've made further modifications. Remove the custom ad blocker rule(s) and the page will load as expected.