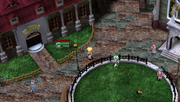 Krosse is a city in Expel. It is the capital of Krosse Kingdom, and thus, it's located in the middle of the Krosse continent,with Kurik located to the north, Harley to the west and Salva and Arlia to the south of it. The Krosse Cave is located between this city and the Symbologist town of Marze, to the west. The centerpiece of the city is Krosse Castle, where citizens have various services available to them including tax collection and requesting an audience with the king.
Story
Claude C. Kenny and Rena Lanford reach Krosse so as to meet the King in an audience about the Sorcery Globe. There, they are informed about the catastrophes on Ell, and Claude and Rena make it their next destination. For that, the king gives them a permit for the Kurik port. Afterwards, both find a symbologist, Celine Jules, in the town center, who proposes to them a treasure hunt quest. The three then head for the nearby Krosse Cave.
Shops
The Royal Hunt
Item
Cost
Broad Sword
400
Venomous Stingers
2000
Rod
10
Leather Helmet
50
Padded Helmet
120
Padded Armor
600
Robe
10
Wooden Shield
120
Boots
40
Iron Greaves
110




The Fattened Goose
Item
Cost
Seafood
500
Fruit
80
Grains
145
Meat
300
Vegetables
30
Eggs and Dairy
10

The Rare Trinket
Item
Cost
Aquaberries
105
Blackberries
200
Blueberries
60
Paralysis Cure
180
Resurrection Elixir
3600
Rose Hip
230
Spectacles
8
Stone Cure
450




Wisdom of Kings
Item
Cost
Knowledge 1
300
Sense 1
400
Technical 1
400
Treasure
Wooden Shield
Leather Helmet
500 Gil
600 Gil
Travel Permit
Treasure Map
Leaf Pendant
Trivia
Ad blocker interference detected!
Wikia is a free-to-use site that makes money from advertising. We have a modified experience for viewers using ad blockers

Wikia is not accessible if you've made further modifications. Remove the custom ad blocker rule(s) and the page will load as expected.