Laser Beams
Talk

0
1,001pages on
this wiki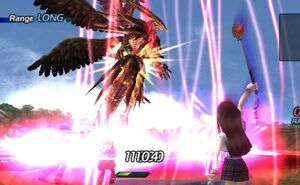 Laser Beams, also known as Ray, is a recurring spell in the Star Ocean series. It is a low-rank light or non-elemental symbology spell that consists of a symbol that creates rays of light that flood the area, hitting all enemies on screen.
Appearances
Edit
"Rays of light flood the area, hitting all enemies on the screen."
—Symbol Description, First Departure.

Both Ioshua Jerand and Ronyx J. Kenny know this spell when they join the party. It costs 4 MP to cast. It is light elemental in this installment.
"A spell that attacks all enemies on the screen with countless days of light."
—Symbol Description, The Second Story.

Celine Jules learns Laser Beams at level 9, while Rena Lanford learns it at level 14. It has an MP cost of 10 for both. It is light elemental in this installment.
Spell Combining
Edit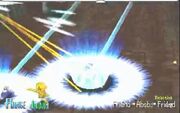 As of SD 366, symbologists on Expel had developed the ability to combine different symbols of certain elements in order to make a completely new hybrid symbol; this ability had been known on Energy Nede for quite some time. Laser Beams, a light elemental symbol in Roakian, Expellian, and Nedian symbology, can be combined with several other spells to create unique symbological phenomenon.
Laser Beams + Starlight
Edit
This symbol behaves like a standard Starlight symbol except that a single target is given a barrage of laser beams in addition to the beams of solar light. This symbol is one of the earliest hybrid symbols available to the party and thus is not a spectacularly strong spell, nevertheless, it is useful at the early stages of the Hero of Light's adventures. In order to successfully invoke this symbol, begin to cast either spell and immediately invoke the remaining smybol.

Sophia Esteed and Adray Lasbard can use Laser Beams.  Both learn this spell at level 54. It costs 150 MP normally. It is non-elemental in this installment; this is likely due to the continued research of symbols since SD 366 in order to make Laser Beams more effective against enemies immune or strong against the element of light.
Ray was renamed to Laser Beams in Star Ocean: Till the End of Time. The subsequent usage of the Laser Beams name over Ray in First Departure and Second Evolution can be seen as a sort of gaffe; Roak and Expel are underdeveloped planets with no knowledge of lasers, and the sight of Claude's Phase Gun in action evokes myths and legends to explain it, rather than an understanding of technology.