Lenneth Valkyrie
, also referred to as
Lenneth
, is a main character of the
Valkyrie Profile
series, and has made small appearances in the
Star Ocean
series.
Appearances
Although Lenneth doesn't actually appear as a character, Rival, the main antagonist, takes Lenneth's appearance during the third stage of the final battle, and can even perform Nibelung Valesti.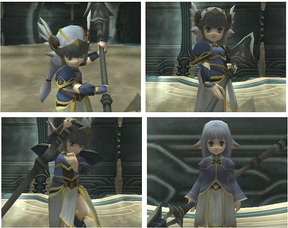 Lenneth appears as a superboss in the third installment of the main series, ranking 3rd in top difficulty. It is suggested to be the same character in this game as the one from her original series (though her appearance as a child is actually a spoiler from Valkyrie Profile). She can be found in Sphere 211. Although the artwork depicts her without her armor, she quickly obtains it before she engages Fayt and his friends.
Lenneth makes an appearance as an obtainable character. She is voiced by Yumi Tōma. Her artwork is illustrated by Kou Yoshinari. Lenneth's rush combo is her signature attack, Nibelung Valesti.
Star Ocean: Anamnesis
Standard Lenneth Model
Availability: Gacha Limited 1/26/2017 - 2/23/2017 and Gacha Limited 12/28/2017 - 1/31/2018
Role: Attacker ACE 5☆ to 6☆
Weapon: One-hand Sword
Talent:
Lord of Creation - ATK +30% (All Allies)
Ragnarok's Dawn - Rush Combo Damage +20% (All Allies)
Platina's Heart - All attacks have +15% chance to Seal (Self)
Rush Combo: Nibelung Valesti - DEF -30% (All Enemies 20 seconds) High Chance to Seal Power: ATK x 3,500% Max Hit Count: 8
Skills:
Glowing Pierce 18 AP - Power: ATK x 170% Max Hit Count: 3
Skyhigh Break 35 AP - Power: ATK x 500% Max Hit Count: 3
Dual Slicer 22 AP - Power: ATK x 220% Max Hit Count: 5
Heavenly Launcher 36 AP - Power: ATK x 540% Max Hit Count: 5
LB 10 Level 70 Status:
HP: 15,645
ATK: 2,730
INT: 1,601
DEF: 1,930
HIT: 1,134
GRD: 819
Blue Sky Lenneth
Availability: Gacha Limited 12/28/2017 - 1/31/2018
Role: Shooter ACE 5☆ to 6☆
Weapon: Bow
Talent:
Valkyrie Pride - Damage +20% (All Allies) / AP Recovery Speed +30% (All Allies)
Arrow of Genesis - ATK +10% after using Starlight Fang (Self 6 seconds)
Loki's Soul - AP Consumption -30% when Skill Chain 3+ (Self)
Pure White Feather Decoration - Damage taken +30% after using Killing Thorn (Enemy 8 seconds)
Rush Combo: Blue Sky Nibelung Valesti - All Element Damage +50% (All Allies 20 seconds) Power: ATK x 3,500% Max Hit Count: 7
Skills:
Volcano Shoot (Strong) 33 AP - Power: ATK x 510% Max Hit Count: 8
Aiming Wing (Resound) 15 AP - Power: ATK x 150% Max Hit Count: 9
Starlight Fang 24 AP - Power: ATK x 260% Max Hit Count: 5
Killing Thorn 36 AP - Power: ATK x 430% Max Hit Count: 10
LB 10 Level 70 Status:
HP: 13,965
ATK: 2,494
INT: 1,601
DEF: 1,720
HIT: 1,253
GRD: 931
Family Tree
Gallery