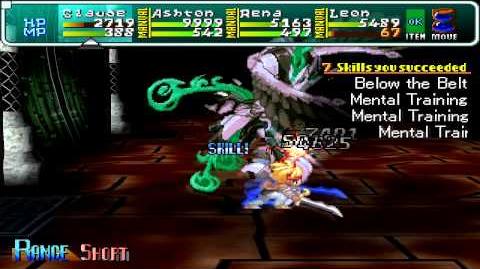 "Deliver a succession of blows in a beautifully choreographed sequence."
—Star Ocean: The Second Evolution
Mirror Blade or Kyou'mensetsu (鏡面刹, lit. Mirror Surface Temple; also called Mirror Slice in Second Story) is a Special Art used by Claude C. Kenny in Star Ocean: The Second Story/Second Evolution, Nel Zelpher in Star Ocean: Till the End of Time, and Fidel Camuze and Victor Oakville in Star Ocean: Integrity and Faithlessness.
Appearances
Mirror Slice/Mirror Blade
Character
MP Cost
Level/Item Learned
Top Proficiency
Claude C. Kenny
38
70
460
Claude slices four times with his sword while advancing against the enemy.
At higher proficiency, Claude will slice faster and add an additional hit that slightly launches the enemy upwards.
Mirror Slice
Character
HP/MP

Usage

Level Acquired
Fury
CP
Nel Zelpher
100/10% HP
52
30/62
8
Nel performs a series of symbologically enhanced slashes before leaping into the air, firing a stream of lightning at her target, and then slashing through them.
Mirror Blade
Character
MP Cost
Skill

Book

Fidel Camuze
22
Swordsman's Manual III
Victor Oakville
20
Fidel slices and dices an enemy with five instantaneous strikes, the final one of which may knock the foe into the air.
Victor slices and dices an enemy with five instantaneous strikes, during the last of which he rushes forward to smite his falling foe.
Ad blocker interference detected!
Wikia is a free-to-use site that makes money from advertising. We have a modified experience for viewers using ad blockers

Wikia is not accessible if you've made further modifications. Remove the custom ad blocker rule(s) and the page will load as expected.