Phase Gun (Ability)
Talk

0
1,001pages on
this wiki
Phase Gun is an ability that is a recurring Special Art in the Star Ocean series and a Field Action skill in Star Ocean: Blue Sphere. It is a type of weapon that is also used as a special attack by Claude C. Kenny during all of his appearances.
Appearances
Edit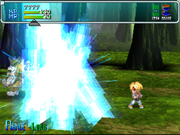 Phase Gun
Character
MP Cost
Level/Item Learned
Top Proficiency
Claude C. Kenny
0
Default
N/A
The Phase Gun is an extremely powerful ability that activates from a short distance. This ability is lost when the gun runs out of power while breaking into Allen Tucks's manor.
Special Art
Edit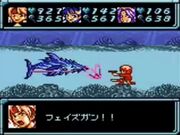 Phase Gun
Name
MP Cost
Level/Item Learned
Claude C. Kenny
22
Default
Claude returns with the Phase Gun as a special art. This time the skill is permanent.
Field Action
Edit
When used in the field, the Phase Gun acts as a projectile that can surprise enemies and destroy weak obstacles like bushes and debris.
Star Ocean: The Second Story/Second Evolution Special Arts
Character Arts
Claude C. Kenny
Phase Gun - Air Slash/Shockwave Swirl - Meteor Palm/Palm of Destruction - Helmetbreak - Sword of Life - Knuckle Burst - Rock Explosion - Double Slash - Dragon Roar - Sword Bomber - Mirror Blade
Ashton Anchors
Twin Thurst - Cross Slash - Vanishing Swords - Northern Cross - Piercing Blades - Hurricane Slash - Deadly Triangle - Dragon Breath - Sword Dance - Tri-Ace
Precis F. Neumann
Rocket Punch - Hop 'n' Step - Hole-y Mole-y - Robbie Tossin' - Parabola Beam - Hammer Slammer - Frakenrobbie - Super Hologram - Forcefield - Robbie's Superbeam
Dias Flac
Air Slash - Chaos Sword - Crescent Cross - Pale Moonlight - Gale Thrust - Moonlight Arc - Phoenix Drive - Full Moon Slash - Deadly Illusion - Phoenix Blast
Bowman Jeane
Explosive Fist - Poison Pellets - Neck Snap - Phoenix Talons - Self Medication - Deadly Intersection - Tornado Fist - Cataclysmic Fist - Inferno Pellets - Petal Fury
Opera Vectra
Flame Launcher - Photon Prison - Tracking Plasma - Dispersion Ray - Blizzard Swirl - Gravitational Sphere - Electric Shockwave - Refraction Beam - Holy Star - Hyperlauncher
Ernest Raviede
Dimensional Whip - Spiral Lash - Arc Swing - Thousand Tails - Sandstorm - Bed of Roses - Thunder Whip - Sonic Whip
Chisato Madison
Roaring Cartwheel - Burning Cards - Gale Somersault - 100,000 Volts - Flamethrower - Rising Dragon - Tear Gas - Missile Strike
Welch Vineyard
Slap - Flick - Left Hand Rule - Spinning Finger - Distraction - Iron Fist - Slappity Slap - Rapid Flick - Mithril Flick - Nibelungaling!
Enemy Arts
Spicule - Wind of Destruction - Divine Wave - Divine Comedy