Star Ocean: Anamnesis is a mobile phone game developed by Tri-Ace. It was created in celebration of the Star Ocean series' 20th anniversary, and features characters from all previous titles in the franchise, as well as music from series composer Motoi Sakuraba. 
Gameplay
It features full 3D real-time action battles with HD graphics. In addition, this is the first Star Ocean game with a fully featured 4-player multiplayer. Characters are divided into five defined roles: Attacker, Defender, Shooter, Caster and Healer. Each role allows a character particular advantages and disadvantages and allow a variety of party combinations.
Square Enix is planning a pre-registration campaign for the game. If it achieves over 100,000 registrations, a Valkyrie Profile character will join the game, and if it achieves over 200,000, Welch will join the game.
Story
Set in Space Date 539 (A.D 2625), the player controls the captain of the Pangalactic Federation starship GFSS-3214F, which was exploring deep space following the events of Star Ocean: Integrity and Faithlessness two years earlier. After a surprise attack by pirates, the entire crew jettison the vessel in escape pods while the captain stays on board with only the AI robot Coro. Making the decision to activate the ship's hyperspace drive, the warp fails and ends up sending them to a distant region of space outside the Federation's borders. While investigating a seemingly barren planet, they happen upon a mysterious women being chased by a monster. The woman, named Ivlish, uses a powerful form of Symbology magic that allows her to summon warriors from throughout time, and manages to escape with the aid of her time-warped allies. After she joins the captain back on the ship, the course is set to return home to the incredibly distant Earth
Characters
The main characters of Star Ocean: Anamnesis are the player themselves and Ivlish. Characters from previous Star Ocean games appear in the game with HD models and designs illustrated by several artists.
The main cast of original characters includes:

Protagonist - The captain of the Pangalactic Federation starship GFSS-3214F.
Ivlish - A mysterious found on a uninhabited planet, who wields a mysterious type of symbology allowing her to summon warriors from different timelines.
Coro - An AI robot in charge of all operations aboard the GFSS-3214F.

See main article: List of playable characters in Star Ocean: Anamnesis
Gallery
External Links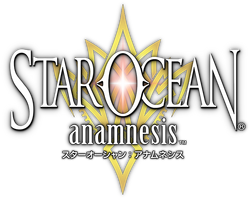 Translations - Artists - Voice Actors
Planets
V-Group 2
Sub-Group 1
Content
Sub-Group 2
Content
Races
V-Group 2
Sub-Group 1
Content
Sub-Group 2
Content
Terms
V-Group 2
Sub-Group 1
Content
Sub-Group 2
Content
Ad blocker interference detected!
Wikia is a free-to-use site that makes money from advertising. We have a modified experience for viewers using ad blockers

Wikia is not accessible if you've made further modifications. Remove the custom ad blocker rule(s) and the page will load as expected.