The following is a listing of all Featured Media of the Star Ocean Wiki from oldest to latest.
October 2008
Featured Media
Star Ocean: The Last Hope is the next installment in the Star Ocean series and will come out on Xbox 360.
<youtube width="470" height="400">iraCEDfJoXI</youtube>
See all Featured Media
October 2008
November 2008
Featured Media
Earth is one of the most important planets in the Star Ocean series. Although it is never visited in the series, it is a major location story-wise, as it is the place of creation of the Terran Alliance, later known as the Pangalactic Federation.

See all Featured Media
January 2009
October 2009
Featured Media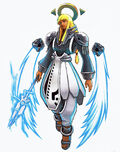 Gabriel Celesta is Star Ocean's most recurring enemy, appearing in all games with its angelical and androgenous appearance as an amazingly powerful foe, second only to, usually, Ethereal Queen. Both have also a great number of appearances inside the worlds of tri-Ace, being a recurring presence in the Valkyrie Profile series as well.

See all Featured Media
April 2011
"STAR OCEAN Forever" from Star Ocean: Second Evolution
STAR OCEAN Forever is the leitmotif of the Star Ocean series and is present in every of the installment of the main series, either under its typical name, or as the base for arrangements (specially the ending theme). As it would be to expect from a leitmotif, it inspires a certain greatness, perhaps attempting to mirror the immensity of the Star Ocean itself.

See all Featured Media