Tatroi, also known as Tatroy, is a city in the Astralian Continent in Roak. It is a mandatory stop to travelers who head to Astral City, either by ferry or through the Astral Caves, and is home to the famous Arena.
Story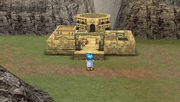 The Calnus' crew arrive at Tatroi upon landing on Roak. There they meet a Featherfolk being attacked by a group of masked men. Edge Maverick rescues the Featherfolk who presents herself as Serah Jerand. Suddenly, Reimi Saionji, Edge's right hand, falls to the ground, and is revealed to have been infected with the Roaking Stone Sickness. The group moves to the inn, so as to put Reimi to rest. Sarah then suggests the party to speak with the King of Astral at Astral City, as he has access to the Stone Sickness's cure.
Tatroi is briefly visited by Roddick and Ilia, who are on their way to Astral City.
Character Recruitment Changes
In case Cyuss hasn't been recruited, Ashlay can be found at the Arena. After completing a tournament at the arena, he can be found at the docks.
T'nique can be found in the arena, and will join the party if it has 6 or less characters. He must be defeated in Rank D after you obtain the Van Emblem in order to be recruitable.
Encounters
Main article: Tatroi Arena
Tatroi is home to the famous Tatroi arena.
Shops
Star Ocean: Fantastic Space Odyssey/First Departure
The Fighting Merchant
Item
Cost
Blueberries
50
Blackberries
180
Aquaberries
70
Antidote
100
Paralysis Cure
100
Stone Cure
100
Resurrection Elixir
500
Sleeping Gas
200
Mind Bomb
300
Flare Bomb
180
Amulet of Antivenin
1000
Pet Food
10
Spectacles
10
Magic Canvas
300
Magic Clay
300
Feather Pen
20
Ruby
600
Sapphire
600
Pipe Organ
5000
Iron
150

Ed's Hardware
Item
Cost
Saber
300
Sinclair
2000
Claymore
1300
Rod
100
Hard Knuckles
800
Padded Armor
300
Silk Robe
200
Martial Arts Outfit
1200
Leather Helmet
80
Padded Helmet
600
Round Shield
180
Iron Greaves
300
Leather Greaves
100




Feast of Victory
Item
Cost
Grains
150
Fruit
80
Vegetables
20
Meat
50
Seafood
150
Organic Vegetables
4000
Sirloin
7200
Rose Hip
230
Lavender
35
Mandrake
80
Star Ocean: The Last Hope
Ruddle's Place

Item(s)

Fol

19,800
2,000
3,000
2,500
200
1,600
3,000
80

Shop Orders

Fol

EXP

SP
Good Grocers

Item(s)

Fol

30
30
100
60
40
150
90
50
20
300

Shop Orders

Fol

EXP

SP
Treasure
Star Ocean: Fantastic Space Odyssey/First Departure
Ressurection Elixir
Aquaberries
Spectacles
Ad blocker interference detected!
Wikia is a free-to-use site that makes money from advertising. We have a modified experience for viewers using ad blockers

Wikia is not accessible if you've made further modifications. Remove the custom ad blocker rule(s) and the page will load as expected.