Ted is the lifelong friend and training partner of Fidel in Star Ocean: Integrity and Faithlessness. He appears at the beginning of the story and has several other appearances as the story progresses.
About
As the training partner of Fidel, Ted is familiar with the same style of swordsmanship of Daril Camuze and as such, is in line to become a trainer at the Camuze School of Swordsmanship. With Fidel gone during the main story, Ted takes over Fidel's position as the main teacher.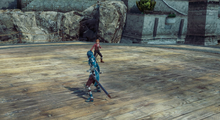 Although he acknowledges the possible romance between Fidel and Miki, Ted himself seems to have a crush on Miki as shown in several PAs featuring the two of them.
Star Ocean: Anamnesis
Role: Attacker 4☆ to 6☆
Weapon: One-hand Sword
Talent:
Moodmaker - Nullify Freeze (All Allies 180 seconds)
Hidden Talent - Damage towards Human Race +20% (All Allies)
Rush Combo: Ted Combination - Nullify Freeze (All Allies 20 seconds) Power: ATK x 2,500% Max Hit Count: 7
Skills:
Double Slash 20 AP - Power: ATK x 200% Max Hit Count: 2
Shotgun Blast 20 AP - Power: ATK x 190% Max Hit Count: 4 Element: Lightning
Rising Blade 32 AP - Power: ATK x 410% Max Hit Count: 5
Helmetbreak 35 AP - Power: ATK x 500% Max Hit Count: 1
LB 5 Level 70 Status:
HP: 13,230
ATK: 1,957
INT: 1,274
DEF: 1,628
HIT: 931
GRD: 665
Gallery