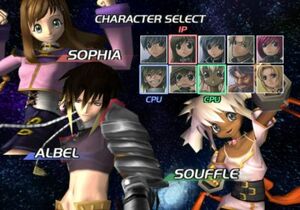 Versus mode is an extra, unlockable game mode included in the Star Ocean: Till the End of Time Director's Cut (also NA/PAL releases) that allows you to pit your party members against each other. This is the only portion of any Star Ocean game that includes any multiplayer component.
Unlocking Versus Mode
To unlock Versus Mode, you must complete the Aquatic Gardens of Surferio, collect the Paracelsus's Table and give it to Welch Vineyard in Peterny.
Features
Versus mode features a variety of match setups which are:
1P vs CPU
1P vs 2P
1P vs CPU vs CPU
1P vs 2P vs CPU
Characters and Abilities
All 10 possible party members in the game, including Fayt, Cliff, Nel, Maria, Sophia, Albel, Roger, Adray, Peppita, and Mirage are all playable. The humans and Cliff are available from the start, while the Elicoorians and Mirage must be unlocked by collecting trading cards found throughout the game world.
Each character has a choice of 3 distinct styles of abilities to use in battle. The abilities in each of these styles is predetermined and cannot be modified.
No exp is awarded for these matches.
Costumes
This mode grants access to various costumes for each character that are unlocked by collecting trading card "EX" cards which are also found throughout the game world.
Stages
There are 53 unlockable stages in which you can stage your battle. To unlock a stage, you need only battle in that area once. For example, the Urssa Lava Caves stage is unlocked by battling an enemy in the Urssa Lava Caves.
Battle music can be changed before a battle by pressing or holding one or a combination of R1/R2/L1/L2 while selecting an arena.
The list of stages is as follows:
Stages
Battle Simulator
Evacuation Corridor
Duggus Forest A
Duggus Forest B
Ruins of Coffir Outdoors
Ruins of Coffir Hideout
Ruins of Coffir Jail
Airyglyph Castle Dungeon
Airyglyph Aqueducts
Elicoor Field Snowy Mountains
Kirlsa Caverns
Elicoor Field Mountainous Region
Elicoor Field Wasteland
Kirlsa Training Facility
Aerial Arena
Elicoor Field Plains
Pesotto Forest
Aquatic Gardens, Surferio
Bequerel Mine Inside Cavern
Bequerel Mine Outside Cavern
Elicoor Field During War
Sealed Cavern
Shrine of Kaddan
Passage from Parch to Plenty
Mosel Dunes
Ancient Ruins of Mosel
Mountains of Barr Waterfall Area
Mountains of Barr
Barr Caves
The Ruins of Barr
Urssa Lava Caves
Dwelling of Crossell
Ancient Ruins of Mosel Waterway 1
Ancient Ruins of Mosel Waterway 2
Ancient Ruins of Mosel Waterway 3
Moonbase
Planet Styx Before Collapse
Planet Styx Time Gate
Arkives
Sphere Company Foyer
Sphere Company General Block
Sphere Computer Computer Block
Sphere Company Elevator
Planet Styx After Collapse
Firewall
Spiral Tower A
Spiral Tower B
Spiral Tower C
Luthers Private Lab
Maze of Tribulations
Urssa Cave Temple
Ethereal Queen Hall of Worship
Ethereal Queen Flower Garden
Ad blocker interference detected!
Wikia is a free-to-use site that makes money from advertising. We have a modified experience for viewers using ad blockers

Wikia is not accessible if you've made further modifications. Remove the custom ad blocker rule(s) and the page will load as expected.